FEWER THAN 300 residents remain in Austin from a peak-year population of more than 10,000. The mile-long main street has withered to half its length and gaps appear in the crowded rows of ramshackle buildings ascending the steep sides of Pony Canyon. Yet Austin has a dowager's presence: she may be reduced in circumstances, even raggedy at the elbows, but she is still Somebody.
You'll find local people friendly and willing to help you find your way around. Chamber of Commerce information is available upstairs at the old Court House, and a Historical Museum occupies the former Forest Service building just uphill on Main Street. Food, drink and automotive services are available, and overnight accommodations are available in three modest Main street motels.
Night life proclaims itself in the Main Street saloons that serve as Austin's social centers: Mary & Dessie's and the Owl Club. The International serves a full menu from early morning until late at night, and the Toiyabe Cafe is quite good (hint: taco salad).
Austin's architectural tour de force is Stokes Castle. A marked dirt (sometimes mud) road proceeds south beside the gas station at the lower end of Main Street a quarter-mile to this architectural curiosity. You can see it as you approach Austin from the west, a stone sentry standing on a rocky foothill of the Toiyabes. It is a copy of a Roman villa, built in 1897 as the residence of a prominent mine owner. It is 50 feet square at its base and built three stories high of hand-hewn native granite.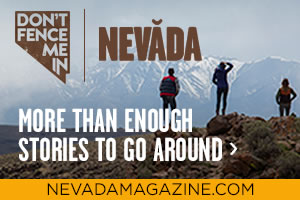 Another local treasure, the stone and brick St. Augustine's Roman Catholic Church which looms above Main Street, is the oldest Catholic Church in the state. Thanks to spirited local enthusiasm, it has been restored and has officially become St. Augustines Cultural Center. The little house just to the north was the home of Dr. Wixom, whose daughter Emma ("Little Wixie") became the world-renowned opera singer Emma Nevada. Her square grand piano has just been returned to the community center in the former Methodist Church.
The cemetery is at the mouth of Pony Canyon west of town is an inviting spot for a historical stroll and a philosophical picnic.
Founded in 1862 as a consequence of the discovery of silver-bearing quartz ledges showing values as high as $7,000 to the ton, Austin had attracted 2,000 residents by the summer of 1863. In its early months, Austin was so isolated and primitive a camp that J. Ross Browne wrote in Harper's: "lodgings in a sheep corral had to be paid for at the rate of fifty cents per night in advance," and that "it was a luxury to sit all night by a stove, or to stand against a post behind a six-foot tent. I have heard of men who contrived to get through the coldest part of the season by sleeping when the sun was warm, and running up and down Lander Hill at night; and another man who staved off the pangs of hunger by lying on his back for an hour or so at mealtimes with a quartz-boulder on his stomach."
By 1865 Austin was Nevada's second largest city, headquarters for the prospectors who trekked out in every direction in search of new mineral discoveries, and for the camps which sprang up around the strikes they made.
The scarcity of ready cash, the isolation, and the lack of a "Bonanza" television series have combined to deny Austin the opportunity for promotion that has allowed Virginia City to become such a popular tourist destination. It is one of Austin's principal attractions that it has yet to be "discovered" except by the appreciative travelers on the Loneliest Highway.