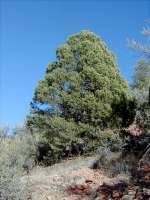 Nevada is the Spanish word for "snowclad." The Nevada flower is the sagebrush, and one of the official nick-names is "The Sagebrush State." Others are "The Silver State" and "The Battle-Born State" (not much used now because the 'battle' was the Civil War, which most Nevadans managed to avoid).



The Nevada motto is "All For Our Country." Perhaps it should be "85% For Our Country" reflecting the percentage of the state's 110,540 square miles still public land. Nevada was the 36th state to join the Union, admitted October 31, 1864 with the signature of Abraham Lincoln.



Nevada is the nation's seventh largest state.



The Nevada tree is the single-leaf pinon, a sapdrooling, potbellied runt that grows along with junipers across the Nevada landscape, like tufts in a rumpled bedspread.



The Nevada state bird should be the Desert Canary (or jackass), but it isn't. It's the mountain bluebird, a chatty chirper with a white vest.



The Nevada state song is a syncopated dirge by Bertha Raffetto entitled "Home Means Nevada".



Nevada's highest point is the 13,145-ft. Boundary Peak between Fish Lake Valley in Esmeralda County and Owens Valley, California. The lowest point is 470 feet above sea level on the Colorado River in southernmost Clark County.



Our Nevada state fossil is the Ichthyosaur, a swimming hunger pang the size of a submarine whose bones have been unearthed and preserved on a central Nevada mountainside near Gabbs.